The Principal

Catherine Gill
B.A (Hons), L.R.A.D., F.I.S.T.D., R.A.D. R.T.S., I.S.T.D. C.D.E.

Catherine Gill graduated from the Royal Academy of Dance in 1984 and holds the RAD B.A (Hons) in Dance Education, Licentiate and Registered Teacher status.alongside the Imperial Society of Teachers of Dancing Fellowship CDE and Registered teacher status. She is DBS checked,and has taught on a sessional basis at the Royal Academy of Dance.
Term Dates

The school operates 3 terms a year designed to coincide with local school terms and holidays although this cannot be guaranteed. Each term is 10 weeks,with a one or two week half term break so please check.

In the event of severe weather conditions or other possible cancellation please check the website after 2pm on a weekday or after 7.00am on a Saturday
. Should it be necessary to cancel, alternative classes will be arranged at a later date.
Summer Term 2022
Saturday 23rd April to Monday 11th July

No classes Bank Holiday Monday 2nd May

No classes Saturday 21st May

Half Term Monday 30th May to Saturday 4th June


Autumn Term 2022
Saturday 10th September to Saturday 3rd December

Half Term: Saturday 15th October to Saturday 29th October
RAD Ballet Exam classes 5th December to 18th December tbc

Junior workshop Saturday 3rd December tbc
New pupils are welcome to register for the Spring Term

Spring Term 2022

Monday 3rd January to Friday 18th March.

Half Term Monday 14th February to Friday 18th February
Royal Academy of Dance Ballet exams19th March to April 3rd.
Exam timetable and date(s) to be confirmed once allocated.
2.
Monday
| | |
| --- | --- |
| 4.00pm | Exam Classes |
| 4.30pm | Grade 3 RAD Ballet |
| 5.00pm | Grade 4 RAD Ballet |
| 5.30pm | Intermediate RAD Ballet |
| 6.15pm | Advanced 2 RAD Ballet |
| 7.00pm | Exam classes |
Wednesday
| | |
| --- | --- |
| 3.30pm | Pre=Primary/Primary Ballet |
| 4.00pm | Grade 2 RAD Ballet |
| 4.30pm | Grade 3 RAD Ballet |
| 5.00pm | Grade 4 RAD Ballet |
| 5.30pm | Intermediate RAD Ballet |
| 6.15pm-7.00pm | Advanced 1 RAD Ballet/ Exam classes |
Saturday

| | |
| --- | --- |
| 11.45am | Pre-Primary Ballet |
| 12.15pm | Grade 2 RAD Ballet |
| 12.45pm | Grade 3 RAD Ballet |
| 1.15 pm | Intermediate RAD ballet |
| 2pm | Exam classes |
| 2.30pm | Exam classes |
| 3pm | Exam classes |
| 3.30pm | Exams classes |
Fees
Fees are very reasonable and vary according to the length and number of classes taken. Discounts apply for multiple classes.

New pupils are welcome to attend a trial class
In order for the school to run efficiently please give notice by the start of the half term break to discontinue a class the following term. A term's fees will be due in lieu of notice.

Fees are not refunded for absence but in some circumstances pupils attending multiple classes can make up a class.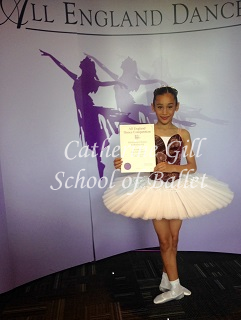 Pupils are encouraged to audition for suitable local productions and have performed at a variety of theatres including : The London Palladium; Her Majesty's, London Coliseum, , Lyceum; Theatre Royal Haymarket; The Churchill, Orchard ,Cochrane, Bloomsbury,Peacock, Stag, Hazlitt, and Harlequin Theatres

Accolades include:
English Youth Ballet Swan Lake, Sleeping Beauty, Nutcracker, Coppelia, Giselle, Etudes;

The Lion King-Lyceum Theatre as Nala; All England Dance Competition Finals;

BYMT Oklahoma as Laurie and Chorus; Shrek as Shrek, Fiona, Young Fiona, and Chorus,

The Wizard of Oz as Glinda and Chorus; Surrey Youth Ballet Cinderella;
London Children's Ballet The Secret Garden, Nanny McPhee, The Little Princess;

National Youth Ballet 21st Anniversary Gala; The Tempest as Miranda with Ralph Feines; Bugsy Malone; Annie; Alladin, Cinderella and Peter Pan pantomimes; numbers from Cats ,James Bond and Alladin at the London Palladium and Her Majesty's Theatre; our very first performance of Carousel at the Churchill Theatre in 1990

and many more
Some students choose to pursue Vocational training or related University courses. Vocational colleges students have been accepted at include Urdang Academy; Bird College; Trinity Laban; Lewisham College, London Studio Centre; Hammond; Tring Park, Performers and the Royal Academy of Dance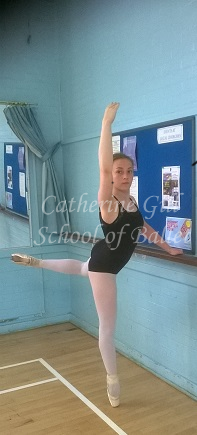 Exceptional standards
Workshops and Theatre Visits
The school offers workshops and theatre trips for pupils and family members

Events include:
Ballet, Musical Theatre and Richard Alston workshops and performances, , English National Ballet My First Coppelia; Northern Ballet Theatre Goldilocks and The Boy in the Striped Pyjamas; Matthew Bourne La Syllphide, Nutcracker Edward Scissorhands; English Youth Ballet Swan Lake Coppelia, Giselle; Sleeping Beauty; Nutcracker, Etudes; London Children's Ballet Nanny McPhee National Youth Ballet Gala; St Petersburg Ballet Swan Lake Romeo and Juliet, Nutcracker; Imperial Ice Stars Swan Lake, Snow White, Sleeping Beauty on Ice; Celtic Journey Gansta Granny, Georges Marvelous Medicine, Bugsy Malone; Annie, Chicago , Top Hat

and many more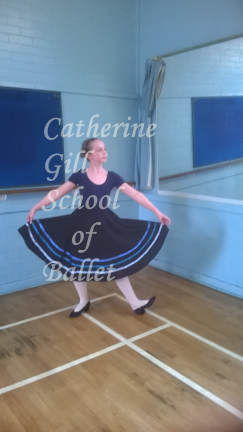 Uniform
Uniform is available with 20% discount through Stage Door, Sidcup High Street, or www.stagedoorsidcup.co.uk

Please arrive ready for class.

New pupils may attend their trial class in comfortable clothing or a party dress.

Girls should wear their hair in a bun for ballet and practical style for Tap and Modern Theatre.

Please ensure all items are clearly named, there are no knots in shoe or cardigan ties and that shoe elastic and character skirt buttons are sewn on securely! Many thanks!

Baby Ballet/Pre-Primary/Primary Girls
RAD Regulation short-sleeved leotard in pink Pink ballet cardigan .
Pink chiffon skirt Pink SATIN ballet shoes+elastic.Pink ballet socks

Grades 1 to 5 Girls Ballet
RAD Regulation short-sleeved navy leotard.Pink or skin-coloured seamless tights.Black ballet cardigan.Pink or skin-coloured SATIN ballet shoes + elastic Black character shoes (Low heel Grades 1 and 2, Cuban heel Grades3 to 5) Black circular character skirt (not a gathered waistband) with blue ribbons.

Boys Ballet
RAD Regulation White short-sleeved leotard. Black shorts or tights. White socks. White canvas ballet shoes.Black character shoes (Grades 1 to 5)

Girls Intermediate Foundation to Advanced Ballet

Black sleeveless, cap sleeved or camisole plain leotard with secret support Pink or skin-coloured convertible seamless tights Pointe shoes + ribbons Soft pointe shoes+ribbons.Optional:Pink or skin-coloured canvas ballet shoes

All classes (Optional)
School of Ballet sweatshirt or T-shirt available through the school


Continuous improvement
We are committed to providing every pupil with an encouraging and positive environment, to help build their self-esteem and fulfil their potential.

Classes

Pupils are entered for Royal Academy of Dance Ballet examinations, but it is not compulsory.

Baby Ballet to Grade 1 pupils attend one ballet class per week, Grade 2 upwards are encouraged to attend two Ballet classes per week.

Pupils are welcome to audition for local productions and attend RAD masterclasses, workshops and summer schools but should not attend classes at another school.

Safeguarding

Parents are usually invited to observe classes in the last week of each term. For safeguarding and copyright recording and photography is not permitted. When invited please pre-book. Parental observation is limited to one parent per pupil.

Both the church and Ballet School have Risk Assessments, and cleaning procedures in place and a one-way system is in operation to keep classes running as smoothly and safely as possible.

Parents are reminded that pupils are their responsibility before and after their class and must be fully supervised whilst on the premises and car park, and collected promptly in person at the exit door at the end of their class. Pupils, siblings, parents and carers are expected to be safe and sensible and courteous and respectful to others at all times.

Please ensure I am notified of concerns, absence, relevant medical or learning needs and updates to contact details. Many thanks.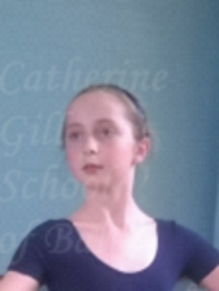 Excellence
We aim to deliver the best experience possible

u
Current Pupils
For problems and queries, or to report absence please telephone or email. Please leave a message if your call isn't answered immediately and I will get back to you outside of class times.
Prospective Pupils
To secure the next available place please provide your contact details including your mobile phone number, email address, name, date of birth and experience of the child and any special requirements that may be relevant such as hearing, speech or visual impairments, dyslexia, allergies, diabetes or epilepsy, injuries, tight tendons, back, knee, hip or foot problems. This is used purely to ensure the best teaching approach. If you have any queries please email, or call and leave a message for me to call you back. Please also add info@catherinegill.co.uk to your safe senders list Many thanks